It's no secret that we are big fans of colorful street art and the message they portray. We have narrowed down our top 10 cities worldwide in which we think has the best Street Art Scene. We've ranked them 10 to 1, and we have to say our number one choice may be a little biased.
Berlin, Germany
The street art in Berlin can be seen as documentation for the story of change that the city has endured throughout history. The best street art in the city can be found on the stretches of the Berlin Wall, also known as The East Side Gallery. The stroll along the wall can be leisurely as well as though provoking. Much of the work along the wall is of political nature, although most artists chose varied themes while creating the murals. This spot is number one on the to-do list for most Berlin tourists, who arrive to the site and reflect through the artwork on what is an eerily emotional spot, packed with cultural and emotional baggage
East Side Gallery Berlin colorful faces graffiti
Editorial credit: andersphoto / Shutterstock.com
Mexico City, Mexico
Although the capitol of Mexico has often had a poor reputation and never been a popular travel destination, the City's hidden gem has always been it's colorful street art. The many colorful works of art, reference Mexico's Aztec and Maya civilizations, packed with political statements or just a breathtaking combination of visual nuanced illustrations with bright kicking colors. With works sometimes being hard to find, many guided tours are offered, giving an inside look into the city's most prominent street artists. These works promote coexistence, tourism and culture.
Graffiti of "La Calavera Catrina", 
the work of the one of the most popular cartoon illustrator Jose Guadalupe Posada.
Editorial credit: Takamex / Shutterstock.com
Lisbon, Portugal
The Portuguese capital is a prime location for street art. The city, embodied with cobblestone streets and rustic buildings, are prime for adaptation into a hip and trendy location. Lisbon is covered in abandoned buildings and factories that have been converted to art galleries, restaurants and night clubs. Now, those building are covered in enormous pieces of street art. With the local government helpless to salvage the city, the underground artists have taken things into their own hands, successfully brightening up the run down walls of the city.
Street art by Blu and Os Gemeos
Editorial credit: anderm / Shutterstock.com
Bueno Aires, Argentina
Centro Ministerio de Diseno is part of the city's government's design district, and of course filled with incredible street art. Caminito is located in La Boca's tourist center, home of one of the city's street art events, the colorBA festival, in which artists from all over the world participated in. La Boca area is decorated in bright colored buildings, tourist stands and beautiful large murals all over the neighborhood. In northern Buenos Aires, you can find Villa Urquiza, a less known spot, filled with murals painted by Italian artist Blu. Buenos Aires is home of many art festivals and hosts a long list of international street artists. You are sure to experience colorful and bright artwork in several neighborhoods around the city.
Colorful street art in Palermo district
Editorial credit: sunsinger / Shutterstock.com
New York City, New York, USA
Street art was born in New York during the 1970 and since has produced influential graffiti and street artists over the decades. During an age when the city was bankrupt and filled with crime, a response to the chaos that infiltrated the city, young civilians from the Bronx and Brooklyn began to tag subways, cars and buildings with graffiti, all being considered dangerous and illegal. Soon this craze spread and found its way into galleries and museums. Today the Street Art in NYC is sanctioned and commissioned by business owners, community groups and developers. Throughout each borough you can find hidden gems. On Long Island, you can find a 5 foot wall with over 200,000 square feet tagged by local and international painters. Over in Brooklyn, you can spot big murals, small tags, colorful or black and white paintings. The City that never sleeps is the outdoor gallery millions of tourists enjoy yearly.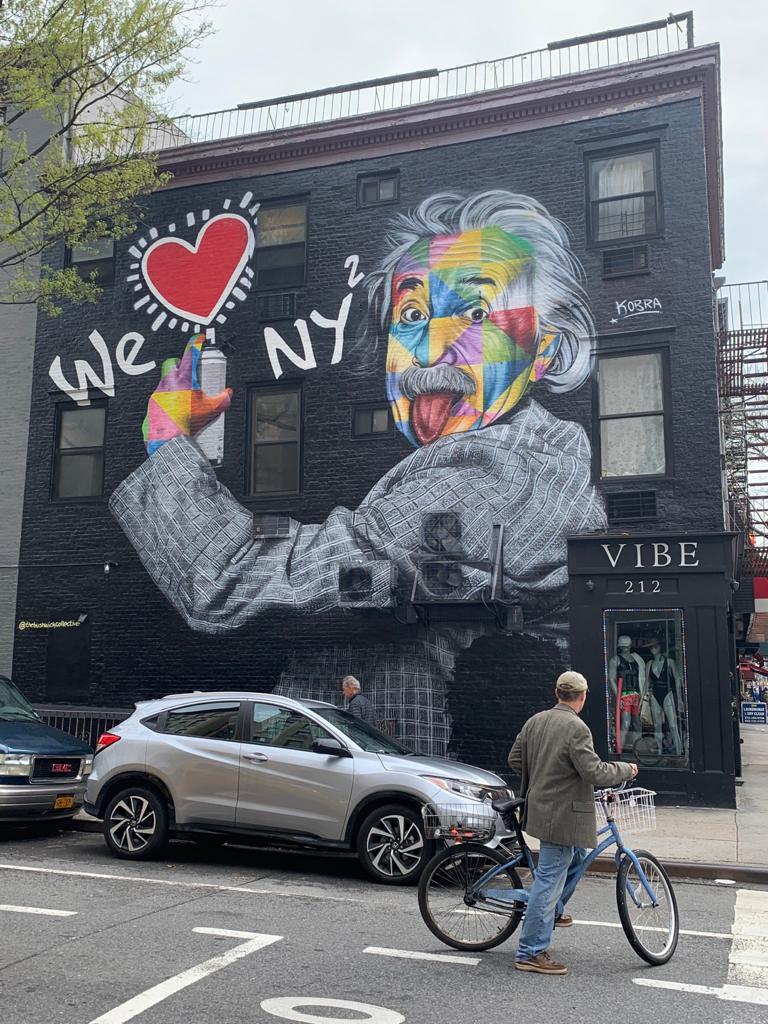 Tel Aviv, Israel
The street art in Tel Aviv covers the city with its charm. While you can most likely find a fascinating piece wherever you go, there are specific neighborhoods you should not miss out on. In Florentine, the up-and-coming hip neighborhood, take the time to admire the vibrant street art. You'll find an old synagogue standing on the border of the industrial zone, and on the right side you'll be able to uncover some hidden treasures. In the Jaffa Port you can find several breathtaking murals on sides of buildings as well as lining the stairs of a shopping complex. Famous street artist, Rami Meiri, covers the city with his larger-than-life murals, while his own residence is even worth a visit. Tel Aviv is just big enough to be able to see all these amazing pieces on a self-led walking tour.
Paris, France
To take a stroll down the streets of Menilmontant and Belleville in the 20th arrondissement, is to discover graffiti, frescoes, and stencils. Although the large frescoes may be a rare citing in the city, dozens of small images are a reoccurring view throughout the city. The Street art in Paris is original and diversified. The Parisian artist has as unique style, while each creation can tell you a different story. Mister Pee, who was greatly influenced by the hip hop movement, and fulfilled with a sense of humor that allows him to create original works in which he shares his perspectives of life. Now having two exhibitions dedicated to his works, in Paris and Lisbon, Mister Pee is known as one of Paris' most influential street artists. In Paris, you must keep your eyes peeled for an octopus or sparkling diamonds, which like an artist's signature, are visual creations that only attentive passers-by will notice.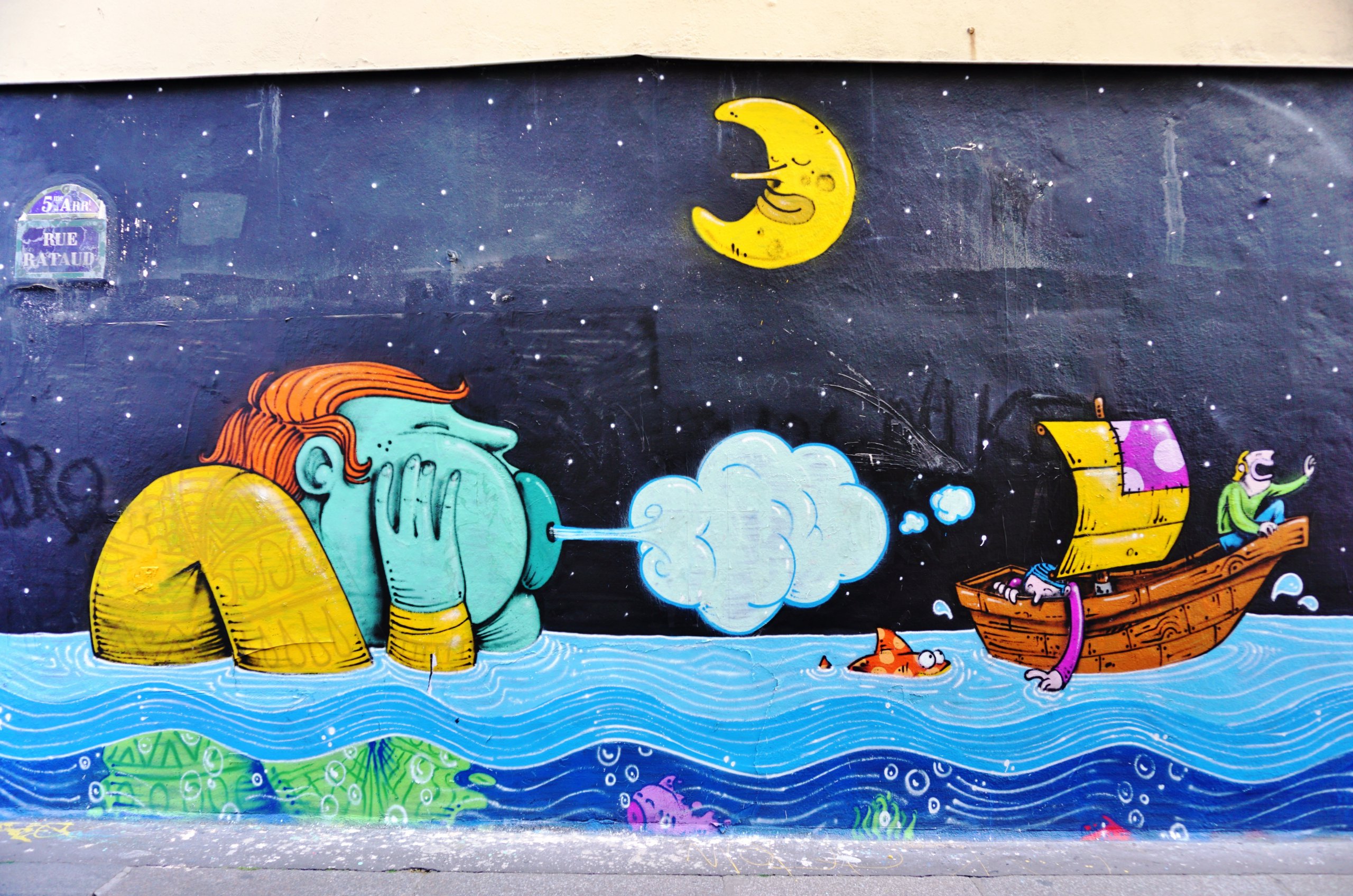 Paris, France 
Graffiti art by famous street artists in the rue Mouffetard neighborhood
Editorial credit: EQRoy / Shutterstock.com
Los Angeles, California, USA
The city of angels, as well as being known for the land of stars, also has quite the reputation when it come to Street Art. Mural Mile in Pacoima features 12 works from local artist Levi Ponce, all produced in 2013. The Angel Wing Project, by artist Colette Miller, is spotted all across the large city. Although the city is now a thriving capitol of street art, between 2003 to 2013, the city had a 'mural moratorium' ban, banning all graffiti. You do not need to seek out Los Angeles' street art, because truthfully it is everywhere. In Downtown LA you can spot giant walls covered with bright colors. In the Art District, also located in downtown, you are in need of no map due to the streets being so full. Every neighborhood in the city has its own personal gems, so no matter where you end up, there will be a beautiful mural to admire.
Art District in Downtown of Los Angeles, CA
Editorial credit: Hayk_Shalunts / Shutterstock.com
Shoreditch, London, UK
Shoreditch is one of London's hippest neighborhoods, it is basically an urban exhibition of street art. The area features some of the biggest names, like Banksy, who has left his mark, as well as other up and coming street artists. The neighborhood is filled with long cobblestone roads, surrounded by old brick buildings covered from street to roof with colorful murals. Walking the streets of Shoreditch feels nothing less than an open exhibition of some of the most stunning works of art. On Rivington Street, new works pop up on the regular, becoming a key site for aspiring street artists. On Great Eastern Street, you can spot two graffiti covered tube trains perched upon an old building.  Brick Lane, known for its second-hand clothing shops, night clubs and restaurants, has been a hot spot for emerging artists for decades. There is nearly no free wall space left on the street, and what is left will be snatched up immediately to create another eye-catching piece.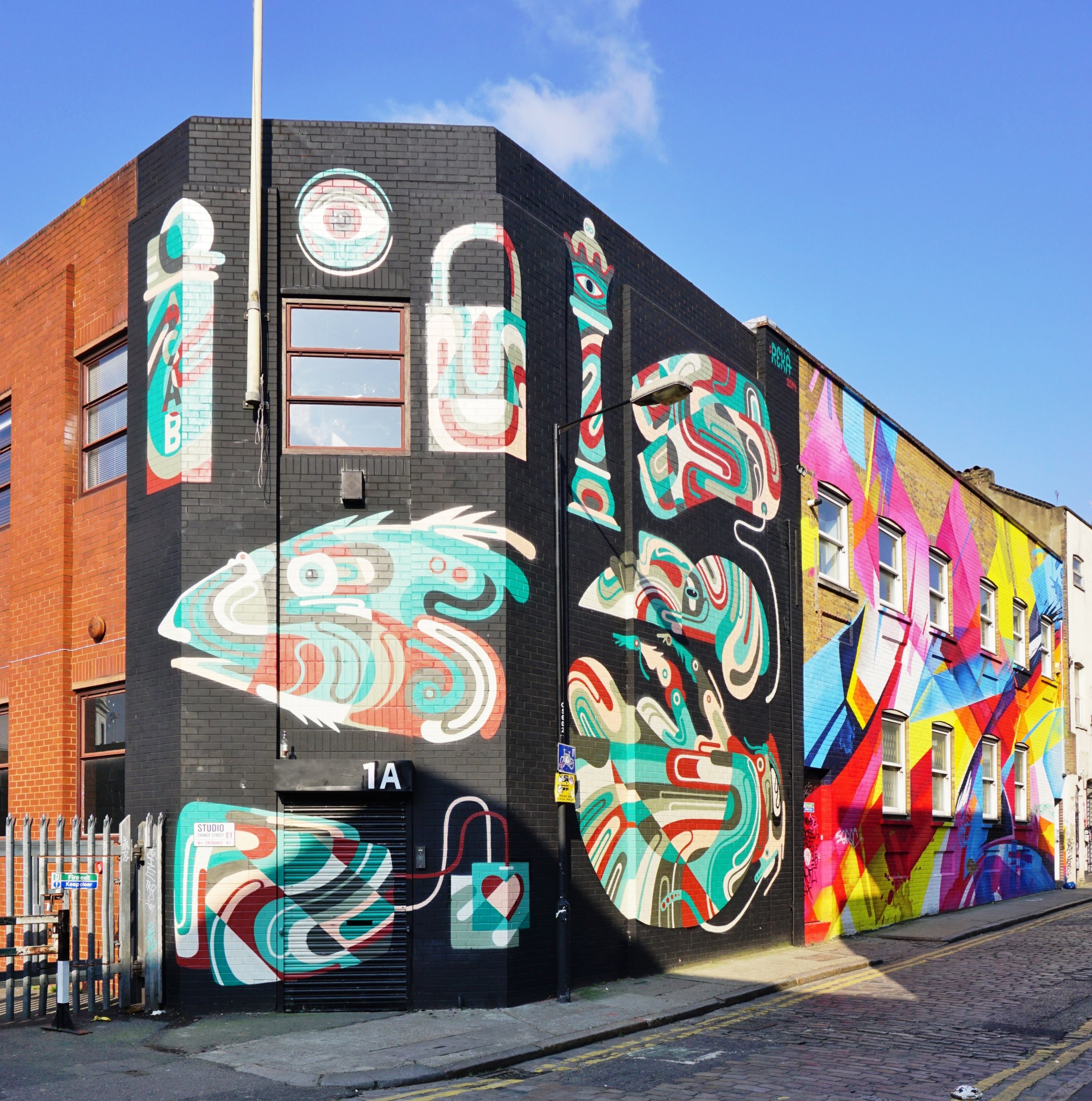 left: Street art on an old brick wall in Hanbury Street at Shoreditch
Editorial credit: Ron Ellis / Shutterstock.com
right: Shoreditch area in East London in the heart of Banglatown.
Editorial credit: EQRoy / Shutterstock.com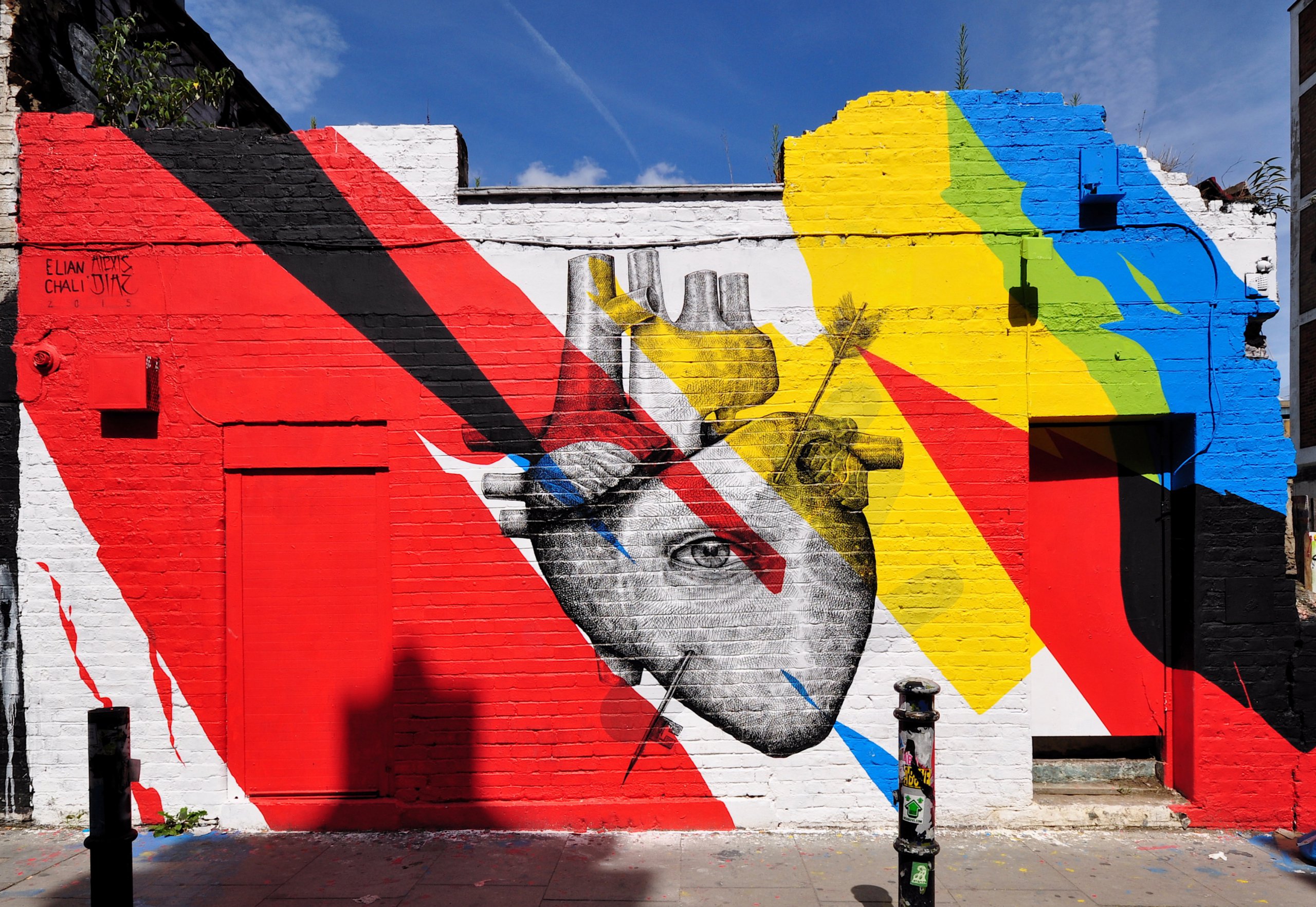 left: Street art on an old brick wall in Hanbury Street at Shoreditch
Editorial credit: Ron Ellis / Shutterstock.com
right: Shoreditch area in East London in the heart of Banglatown.
Editorial credit: EQRoy / Shutterstock.com
Haifa, Israel
After years of neglect for the downtown area of Haifa, the neighborhood has in recent years has been developed into a lively hangout scene. The street art decorates old, rundown buildings with colorful murals of illustrations and scenes. The Broken Fingaz collective was based in Haifa, decorating some of the biggest buildings in the port area, turning them into one of the biggest names In the local and international street art scene. Walking up to Talpiot Market from Downtown, you can stroll along Shivat Tzion Street to look at a plethora of works by different Haifa based artists.
So yes, our list may be a tiny bit biased, but there is no doubt that all over this big rock that we live on, there is beautiful street art no matter where you go. While traveling, don't forget to keep your eyes peeled for the breathtaking works that surround you.